We set out from Madison Tuesday afternoon in a borrowed car (Thanks, Sue!) and drove all night, thanks mostly to Gabe's stamina, and reached the South Dakota Badlands by dawn. We took the scenic route through, stopped for a stretch and a welcome breakfast, then kept on.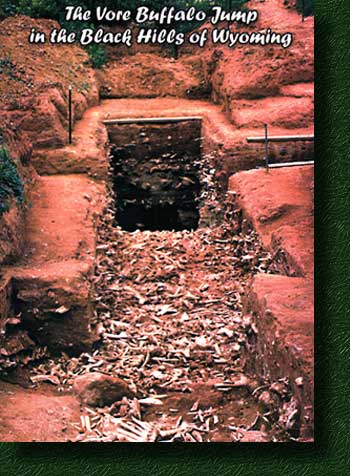 At Wall Drug we made the acquaintance of Jared the Jackalope who was up for a road trip. Endowed with the lightning speed and other scary superpowers characteristic of his race, Jared tirelessly protected car and camp. He listened with a certain professional interest as Day read to us from the zombie novel "World War Z" to while away the weary miles.
The Vore Buffalo Jump is a national monument wannabe. They're working hard towards funding and recognition. Deep stata of bones show that for hundreds of years First Nation peoples would organize to stampede bison into the natural sinkhole, and butcher the fallen to stock their winter larders.
We travelled through the Black Hills and the town of Deadwood, Wyoming. We camped in the Bighorn Mountains, at apparently the last campsite available for many miles around. We were not aware that we had happened upon "Sturges Week", an annual gathering of tens of thousands of motorcyclists.