Irish Fest 2007
So we finally traveled home by our various paths, someday surely to return to Glacier.
However, the next weekend saw most of us back together again in Milwaukee for Irish Fest. Many of us have attended the Fest for years, and it now seems to have become an annual mini-Jabo reunion. Even the far-flung ones, Jim, Zan and Dustin, and Bob & Jude made it in.
It seemed to be the season for reunions. Cherish the Ladies' wonderful Saturday gig featured all their old bandmates.
They played to a doughty crowd in raingear and umbrellas, and kindly remembered Paul onstage.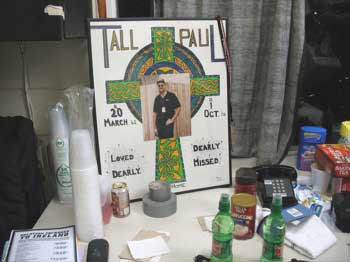 Backstage, Paul watched over the proceedings from a poster that Monica created. (Click to view a larger, printable version).
So did the Makem and Spain boys, who performed Paul's favorite song and dedicated it to him. (And yes, that's an older -- and drier -- photo!)