Jim flew in from Olympia to join us, and dove right in to help. Here he assembles the "Leave the Washing-Up for Lobelia" refrigerator magnets, part of the Gifts.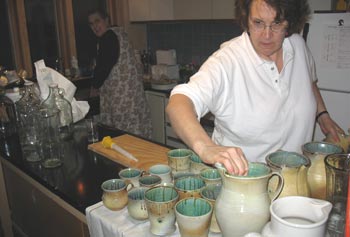 This year we were better-organized than ever. The "Hobbits" -- a core group of Chris, Jan, Bill, Sue and Day -- spent Friday afternoon and evening assembling gifts, cooking and setting up the serving line, covering the windows, hefting furniture and generally preparing the the house for Saturday's deluge of over 20 people. All the while we talked, laughed, listened to music and read from Tolkien.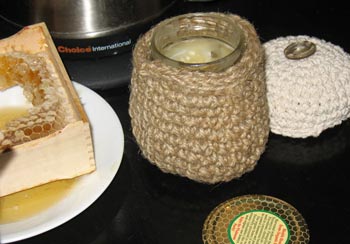 Jude again sent honey -- this time a jar in a nicely crocheted cozy with a matching cover.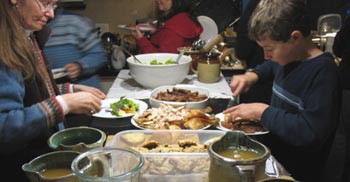 In addition to our now-standard fine Middle Earth fare, this year we enjoyed Day's excellent apple-roasted chicken, Monica & Joel's well- regarded Stewed Coneys, Sue's fancy eggs and salad, Betty's tender apple-cherry pie, Cindy's blackberry tarts and strangely irresistable Ranger cookies, and Brian's selection of hard ciders and honey-meads.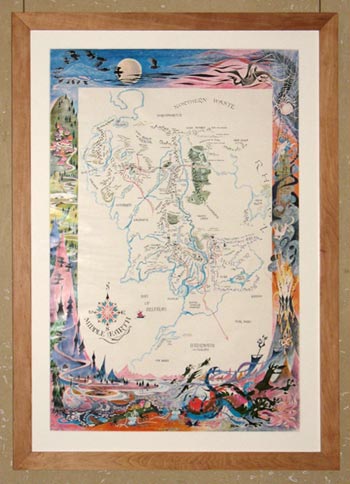 (above) Hour 13 ~~ 9:30 PM, starting the final disc.
For decades Chris preserved the map of Middle Earth (above center & left, published in the mid-1960's) before giving it to Bill/Lou for furnishing the hall; Ryan provied the finishing touch with his professional framing job.
The first steps of the late road home were lit with ice luminaries -- click to find out how Bill/Lou makes them.