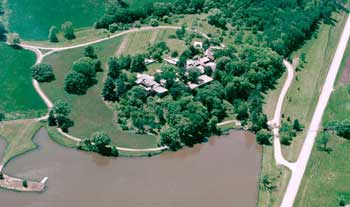 In the Autumn of 2007, Day, Ryan and Bill/Lou had the extraordinary experience of being invited with some UW faculty to take a private tour of Taliesin, the home and estate of Frank Lloyd Wright and the Taliesin Fellowship. With the students and faculty gone to their Winter quarters at Taliesin West in Arizona, our small group was able to wander for hours through portions of the buildings and grounds that the public never sees.
left, View of the Home from the air, The estate includes 3 major clusters of buildings -- Home (below), School, and Midway -- as well as numerous smaller buildings.
This perspective shows at the way in which the building sits -- not directly on the top of the hill, but around its 'brow', a central tenet in Wright's design philosophy. (Taliesin was a famous Welsh poet; the word also means "shining brow").
Here the courtyard of the Home has been mulched over for the winter; During the growing season it is lush with flowers, decorative pools and climbing vines.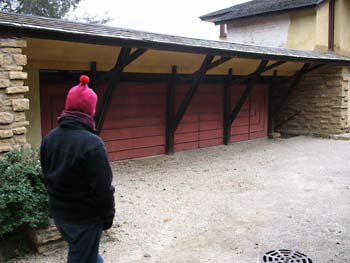 Garage doors off the parking court. Built three times (after fires), the complex still sprawls with many additions and alterations, all built for practice by the students.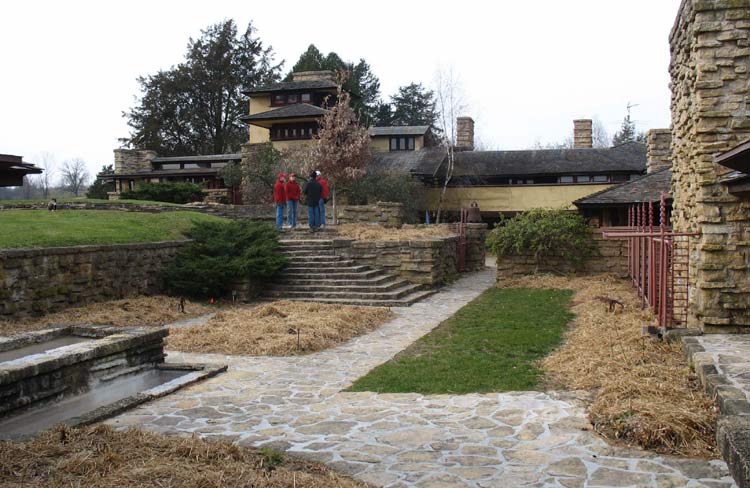 Reverse view of the main courtyard, showing a tall wing with offices and dwellings, with family quarters beyond. To the left is the main mass of the building, stepping down. Click here for a 360 degree panorama of couryard & Home.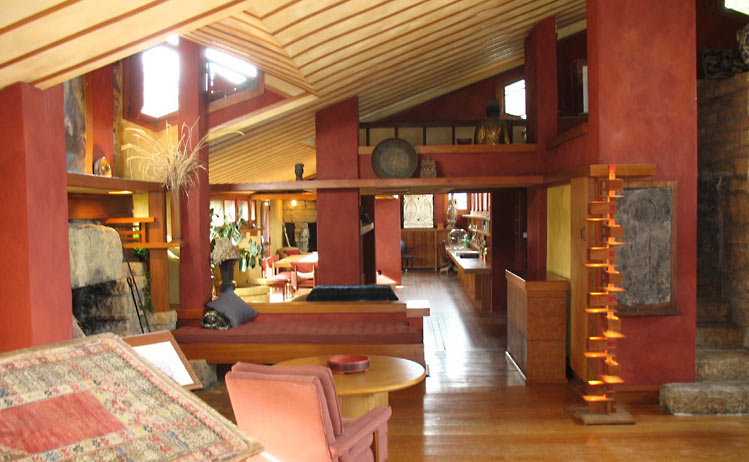 View from the main 'hearth room' space into the dining space. These are spaces--not rooms--that flow into one another. The Home has received most of the recent restoration attention. It is always surprising to realize that these buildings and interiors were designed 80 to 100 years ago, Wright having been born just after the end of the Civil War.