The Jablonski family honored Larry, John and I by asking us to talk about our dear friend Paul. I would like to honor Paul's family for their care of Paul during the last three weeks of his life. They did a superb job of ushering Paul into the next life. He fought a hard fight during those three weeks and several family members invited him to let go of this life if the fight became too much which ultimately it did.
If Paul's family members were able to stand up here today the three things they would tell you about Paul are that he was a person who took care of others; he had a great sense of fun and that he was a man of great depth.
As Paul's brother-in-law Bob said so eloquently Paul was the youngest brother in the family and a big brother to all. Paul's sister, Jude, recalled something that happened at Irish Fest which nicely illustrates this. Paul found out a performer at his stage wanted tea. Not only did Paul locate tea for the performer he found a tea set to serve it in – on the Irish Fest grounds! Paul took great care in caring for others. As family friend, Gail said, Paul could fix anything and did. I know Paul performed many kindnesses we will never know about.
Paul's sister, Mary, described Paul as a loving heart with a wry smile. Paul's sense of fun was always lurking just around the corner and would jump out at unexpected times. A good example of this silliness was Paul's expertise in something he dubbed "Arm's Length Photography". Paul's arms were so long he was able to take pictures of himself with a group of people by holding the camera out in front of him. He became very good at it and amassed a large collection of Arm's Length photos!
Finally, Paul was a man of great depth and sensitivity. His sister, Monica, said he was the most sensitive soul she ever met. He had a huge capacity to love. He was well read; he was well educated and he was a man of deep faith. Paul, being the good Catholic boy that he was, often commented on the fact he did not attend church on a regular basis. Yet I knew him to be a man of great faith. I had the privilege of being with Paul when he died – there were angels there waiting to take him to God including his father, Louis. When Paul was born the angels were present as well. His mother had a spiritual experience which inspired her to write the following poem – and so I end my comments with these thoughts that were written a few weeks after Paul's birth...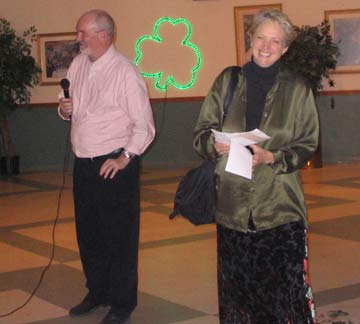 Good afternoon.
(John introduces himself vis-à-vis Paul, as a 20 year friend, fellow Grad School MU History stiudents. Paul introduced John to his wife, was the best man at wedding and godfather to son Tommy. He thanks, on behalf of family, all in attendance.)
The purpose of eulogy is to offer public testimony of an individual's life and accomplishments emphasizing the positive. Therefore I will not deviate from that tradition by telling stories about some of Paul's "less than positive" moments such as during the comprehensive exams for our Masters degrees when he, I and several others were scolded by the department secretary for making too much noise when cursing our professors for not asking the "right" questions or the many times when I was subjected to Paul's infamous rides in his new cars when he insisted on taking me out onto the highway to demonstrate both the speed and maneuverability of his new car which usually violated every known traffic law and regulation.
Instead I wish to offer, in keeping with the tradition of a public eulogy, testament to my friend as The Good Man.
He was the Good Man in regards to his mother in his selfless duty and respect toward her as a person and her needs.
He was the Good Man in regards to his brothers and sisters in his attempts to assist them in resolving their life's issues demonstrated by his generosity of time and assistance while supporting them in their moments of joy and success.
He was the Good Man in regards to his colleagues at Marquette in his display of fairness, professionalism and integrity.
He was the Good Man in regards to his life as a Christian Catholic exhibited by his high, moral character and his willingness to serve his fellow man without expectation of rewards or notoriety.
He was the Good Man in regards to his friends with whom he laughed, cried and trusted, demonstrated by his displays of humor and his sharing of both anxieties and dreams. He was quick with a story, to lend a hand, to listen with an open mind or to provide a strong shoulder upon which we could lean.
We have lost that Good Man. We are made poorer by his absence.
I shall grieve the loss of my friend Paul for the remainder of my days.
My faith tells me, however, that Paul is now in a place absent of pain and suffering. I will, therefore, take comfort and strength in the eternal joy and happiness that Paul now experiences in the kingdom of God.
I wish for all of you gathered here today, especially for his Mother and siblings, that you may be comforted and strengthened by the reality of Paul's eternal peace.
May God bless Paul; may God bless us all.