1 January 1980
I started at A-C in April of 1935 in #1 tractor shop. It's so long ago I'm not sure if it was this shop or what I worked at. Vaguely I recall moving things around on skids so I was a flunky. Somehow I got transferred to #5 shop. No doubt Pa had something to do with it. Five Shop was then making generators, motors and other electrical stuff like commutators, bus bar, switch gear with some bearing work in the north half.
My job here was many things. I worked a punch press, sawed copper bars and soldered windings on drive motors for steel mills. These were impressive since they stood over 20 ft. tall. I also worked on giant switch gear for Boulder Dam, which was Hoover Dam before the depression struck. Hoover was held responsible for the depression, so monuments to his memory were few (reminds me of the Egyptians blocking out Amenhotep's name and tearing down his temples to Amon, and the purge of Stalin's name after old Nic Kruschev came to power, from even Stalingrad, that famous battlefield. The powers have since renamed the dam the Hoover Dam and even a child of the depression like myself agrees that it is right.
There is a picture of me standing alongside one of the switch gear of put plates and doors on with old Pete Gasper and Chris Christenson who carried an IWW card — the only Wobbly I ever met or knew. I remember him because he never had his overalls cleaned.
One time old Chris was pouring hot insulation pitch above where Pete was working and a thin strand of that hot stuff hit Pete on the neck. Pete raised the hubs of hell to new heat [?] as he stormed up, down and around. Chris stayed up top for a long time. The two finally made up but it took weeks and a threat from Chris to Pete that he'd kill him next time. Pete had a big wad of tobacco always juice loaded and had been using Chris' toolbox for a spittoon. Both are dead now but our switches still work out there on the Colorado River in the bowels of the Hoover Dam.
Eventually I was transferred to 6 Erecting. In this shop, the machinery built from scratch in other shops was assembled and tested, then marked and disassembled for shipment. Giant generators and motors were about all that came through, although smaller motors (500 hp) for the Navy or the Coast Guard sometimes appeared.
I worked the third shift from the time I got to 6 Erecting until I left in June of '37. What happened is that I was working on the same things all the time. Big stuff, sure, but build one and you've seen them all. I got to wondering if there wasn't something else around more worthwhile. A job was a job in depression times but I couldn't see myself doing these same things over and over even out "on the road". Night work isn't the best for social life but I went to the library and the museum, joined the Elks to go swimming and exercise. And took up photography right down to the darkroom stuff. I did it for fun and had fun with my big 4x5 Graphic press camera. Then too, I liked symphonic music and listened to the Philadelphia and New York orchestras on Sunday afternoons. It was during one of these sessions that I saw an ad in the Sunday Vistor. It read "Be a teacher", write so and so, and I did. Well, Brother Ephrem CSC answered and told about the Holy Cross Brothers and how they worked in high schools and boys homes like St. Charles in Milwaukee. It read pretty good so after a few trips to Watertown where the Brothers had a postulants house. Frankly I enjoyed riding the interurban more than the visits. Anyhow, after backing and filling and hemming and hawing for about six months, I wrapped up my affairs, bought a trunk and on June 10 Pa drove me to Watertown. Brother Jacob met me and welcomed me into his office where he took all my tobacco away. He said "we" wouldn't need it. There were cigarettes (Chesterfields) some cigars, pipes and tobacco and some chewing tobacco. He gave me credit for the stuff. Then I told him I had just come off the night shift and could use some sleep. He put me in a big room with iron pipes and white curtains hung on this to form little rooms containing a bed and a chair. I slept like a log and was wakened for supper.
Supper over, I got acquainted with some of the guys, some kids but older fellows like myself. Then after night prayers quiet descended, and I mean quiet. Having slept most of the day and being a night owl for almost two years I had one hellava job sleeping. I heard every train (the Milwaukee Road ran nearby ) barrel thru the town and every beam in that old building creak and groan and even more in that ballroom. After a couple of weeks I got turned around and slept with the best of them - at night.
On about August 10 we were shipped out to Rolling Prairie, Indiana, the novitiate. There, all of us brothers-to-be and seminarians were given the habit (cassocks). It began a stay of 13 months. Nothing exciting happens in a place like that, except on Sunday afternoons with fine weather we took hikes and played ball. During the rest of the week we kept the place spotless, worked the farm - all starting at 5:00 am with a bell waking us. Bedtime was ten.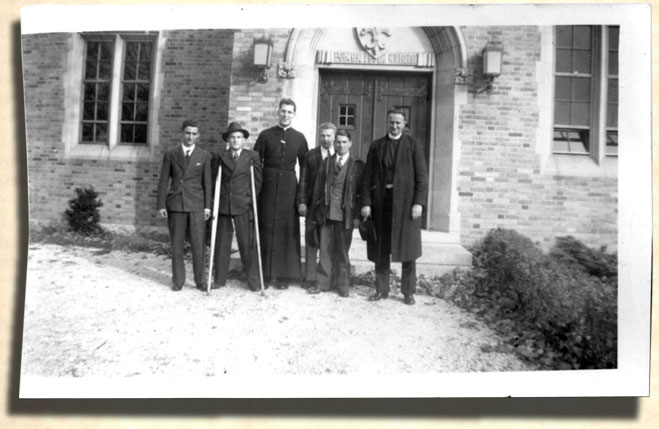 I helped build a barn - a big one, 125' x 195', built a road over a hill, set up fence, fed cattle, cleaned manure from barns and pig pens, dug sewer trench, peeled apples and canned peaches and envied Joe N--- because he drove the Model A pickup around the place. I did little weeding and planting in the garden. I'm sure I'd never get through if I had to weed etc. and Brother Seraphim knew it. Seraphim was a Schwartzwolder [sp?] (German Block Forest region). He was a taskmaster and often caught me breaking silence. Silence was the thing. No talk at all. Even at meals you signaled. Pass the salt - wiggle your two fingers. Pass the milk - make like milking a cow etc. Silence was so golden that when Jim Donnelly — an old power shovel salesman and shill (poker sharp) — was sliding down the roof of the barn we were building, he "whispered" his "help, help!". We of course saved him and laughed — quietly.
Thirteen months went by pretty fast in that place. We had all kinds of talent around. There was the "Dean of the American Organ", Raymond Hill, who rewired the Hammond so it shook the walls of the chapel. Though Pat Judge was more popular; he was an old band leader who played ragtime piano. And Clarence Bernard, who socked out Char----- [?] and sang in French. He was from New Orleans and later left the outfit and ended up a Captain in the Army, G-2, as an interpreter in France. Jim Donnelly was a tremendous hit with cards. They talked for him. He shuffled a deck in midair.
There were some holy rollers too. One had a habit of hanging his head in "humility". Seraphim used to get livid with a "holy" rage. "Keep your head up. You're a man not a slave!" he'd roar in his German-accented English. He failed. Sko--y [?] never did come around. He ended up in the Trappists, where they have lower doors I suppose. Then a little dumpy guy from Kame, PA who slopped his soup on his habit and snooped in everybody's prayer books. He went back to the hills. Even Seraphim helped in the laugh department. He often led prayers, and when he recited the rosary his German got in the way and he'd say "Holy Ghost" like it was hoody ghoost and bring down the house. Anything brought down the house. He'd pause and begin again and once more the chapel got the giggles. He'd say "Those who can't stop laughing please kneel in the aisle" and twenty guys slid to their [haunches ?] and more titters. A long long pause then one little snort set everybody off again. We finished out in private. Good clean fun. I'm sure the Lord enjoyed too.
Came August 16, 1938 and we were processed and shipped to Notre Dame and into D ----[?] Institute, the house of [foundation?] for the Brothers. It was the residence for most of us through college.
At D---, discipline relaxed a bit and we all loosened up a bit. We arrived when most of the house was either on vacation (Juniors went home and Sophomores and Seniors went to camp a Lawton [?] Michigan near Paw Paw) or on missions, so when they all returned the place had 150 double-decked in a firetrap over a hundred hears old. It still stands as Carroll Hall for Notre Dame freshman, preserved no doubt by a special fire-fighting brigade of angels.
I was enrolled in Liberal Arts, majoring in History and minoring in Politics. For four years including summer sessions I enjoyed every minute of collegiate life. We brothers were not a part of the regular Notre Dame life, as we lived apart and went only to classes as students. But we were Notre Damers all the way. We owned the joint.
On a Sunday in December, I was reading in one of our rooms when the radio announcement came that Pearl Harbor had been bombed. It meant war but we were concerned because we had some missionaries enroute to India via the Philippines. They never did reach India because they were interned at SantoThomas outside Manila by the invading Japanese. We didn't see them until after the war.
Notre Dame was filled by Navy and Marine Core V7 and V12 officer trainees during the war. Thus when our high schools closed, the Brothers like myself who were working on MA's had no place to study in the summer. I and about 30 others were sent to Fordham University, New York for that summer. So I have some courses on my record from old Fordham University.
My first assignment (we called them missions or obediences) was to Cathedral High School in Indianapolis, Indiana. I got there in 1942 (September) and stayed on until I got transferred to Vincention Institute in Albany, New York.
At Cathedral I taught History, Sociology, Citizenship, and Religion. I was Sophomore class sponsor and in charge of their Cotillion and other events. There were some real sharpies in that class. I was play director and put on the Gypsy Baron which featured a prima diva from the girls school (St. Agnes High School) next door. The play will be remembered for the male lead's missing a cue and completely eliminating the diva's showpiece of a song. All her relatives and friends and supporters were there and she got euchered[?] out of her song. Oh the tears and howls and confusion. Frank Maly couldn't walk the same streets where she trod. She got over the affair eventually and took up with Dick Ahearn, one of our hot-lips trumpeters. It was most evident that I was no Korda or Griffin, so I retired to my darkroom as school photographer. There I was a howling success in the opinion of those who mattered and that included me.


I was not happy in that school for all sorts of reasons. The people I lived with were sharp and real workers but mostly loners. I became one too. The rule prevented real friendship, so it was a lonely existence.
I was transferred to Vincentian Institute in Albany, New York a high school where much of the same spirit prevailed. I decided to leave so I went through the proper channels. These prope /paper channels were appeals in Latin which supposedly went all the way to Pope and Rome. I'm sure they were pro forma and settled the issue in Washington D.C. and by some functionary unknown to me. The term applied then to people who left church service was "defecting", to imply a deserter. I never did nor will I ever accept that version of my action. I joined of my own free will and left the same way fully satisfied that I had done my duty fully right to the day I left. At any rate, pre-Vatican II churchmen rode high and rough (or thought they did) on those unwilling to be further burdened with a service which had become a sort of bondage.
I was not alone in this belief, as many (I don't know how many) of my friends also left for similar reasons. I have made no attempt to keep in touch which is in conformity with the tradition of departing brethren.
While in Albany I contacted the local IBM officer, Mr. Day, and arranged to go to New York to "World Headquarters" of IBM for an interview for a job. This I did and got a job as salesman stationed in Milwaukee. I left Albany for Milwaukee with $50 given me. I spent $30 on train fare. This left me with $20. The date was January 1946. Things would have been rough indeed except Pa invited me to stay at "home" and George gave me his checkbook in effect. Since he had been drafted into the army he felt he would not need too much. I was to repay what I drew and this I did. I also wore his suits until I could get some made. 1946 knew war time shortages and it was some time before I could get a suit made because cloth was scarce. Pa loaned me $500 for a car I needed for IBM work and with it I bought a 1936 Ford — my first car ever. It was a real scooter(?) and was home for me as I was on the road most of the time.
IBM opened an office in Madison and I was transferred. (IBM meant, according to the story, 'I've Been Moved') So off I packed. I rented a room in a boarding house on Oakridge Street and had a desk in the IBM office in the Tenney Building right on The Square. In 1946 everything was in short supply. Even typewriters (IBM called them EWM's — electric writing machines), but mine were rare birds indeed and cost $375, where conventional machines cost about $100. Thus sales were not terrific, but covered my draw. My territory included all of Dane County and Southwest Wisconsin. I was given all time clock sales (ITR, International Time Recorder) as 10% of my quota. I never sold one. They too were out of sight pricewise.
Life as an IBM salesman of expensive office equipment was not luxurious. I ate two meals a day and did nothing else but try to drum up sales which were not so hot. Really missionary work for IBM.
Madison's office was attached to Milwaukee initially, so I picked up my machines there. It meant too many trips back and forth but on one of these trips I was returning to Madison via Wisconsin Avenue (Highway 18), when as I passed Marquette University I noticed a parking place open just across from the Service[?] Building. On the spur of the moment I slid into it and crossed over to Johnston Hall to inquire about teaching at Marquette University. I saw Father Barnett, the Dean of Language Arts. He said he was filled up but Father Divine in Business Administration was looking for someone. Over I went and got almost instant attention from Father despite an "imperious" secretary. He said he needed a history major with a politics minor. That was me. I majored in history and minored in politics and had graduated cum laude with 28 hrs of graduate credits, besides having taught for four years in high schools. He hired me on the spot and asked when I could start. I asked when school started and he said in ten days. I said, "I'll be here." Date September, 1946.
On to Madison I went and to my first act there was to write out a resignation. It was accepted and I was on my way to 33 years as a Professor at Marquette University Business Administration, teaching veterans American Economic History, British Economic History and American Government and Politics. I taught every day and at night for extra pay and took graduate courses for an M.A.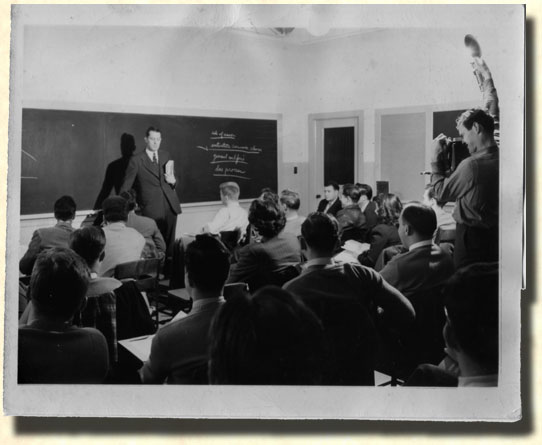 Since Notre Dame disallowed my return to their campus to complete the 2 hours I needed for their M.A. and refused flatly to accept 2 from Marquette University, I repeated all but six hours of my masters courses at Marquette University, and in 1950 had an M.A. in history from Marquette University. I began taking additional courses in economics since I was in that department. I tried to amass enough for an M.A. in economics but it was a Catch 22.
In Econ, the chairman was Father Bernard "Bud " Dempsey. It was he who pushed me on in economics and made me department secretary.