The Hunt for One Room Country Schoolhouses ~ Chapter 3
Camp Nine School

There is the typical outhouse near the school. Rural schools always had two such buildings, one for boys and one for girls. The one at the Camp Nine School was found at a neighboring farm and had been used as a tiny tool shed before it came to the Heritage Center in New Richmond.
June 10, 2002--We begin again to look for schoolhouses. This time we were wise enough to do some research beforehand with excellent success. Again, using Jerold Apps' book, we learned of a school in northwestern Wisconsin, near the Minnesota border, which actually holds classes during the summer. After an hour or two on the phone calling chambers of commerce and obtaining names and addresses of teachers and schools, we set up an itinerary of four schools.
We drove 6-7 hours through some of the most beautiful country in the USA to reach the local museum in New Richmond. The curator offered to keep it open for us if we could not get there by its closing time of 4:00 p.m. The people in the small towns of the state have been unfailingly helpful and often have gone out of their way to help us even when we have told them we are not on some esoteric research project but are doing this search purely for fun.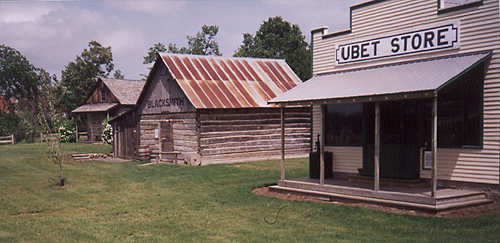 That New Richmond Heritage Center covers about 10 acres and holds more buildings than just their school, Camp Nine School which was once a school building for the children of Lumber Camp Nine. It was moved to the museum site in 1995. There are other restored buildings on the site also: a store, a Norwegian log cabin, a blacksmith shop, a dairy barn and silo and, an Italianate style home, another home once used by Scandinavians who kept the mills running, and an agriculture pavilion. Since we were interested only in the school, we spent most of our time there.
| | |
| --- | --- |
| | |
The curator told us they hope to find a big heating stove (the one in place now is a "pretty parlor stove" (above, right) and a crockery water cooler to add to the authenticity

The restoration includes desks and blackboards saved from other rural schools around the county. The bookshelves and many of the books are original to the schoolhouse.

On one of the desks (photo, left) a pupil was daring enough to carve his complete name, Dick Standert, into the wood. Amy, the curator, said that about two years ago a visitor noticed Dick's carving and said that this desk was really an original from Camp Nine School because she attended the school with him and eventually married him. He had actually carved his name more than once and his initials, also. The school had been moved in from its original location as a lumber camp school near Glenwood City. Though many of the desks were brought in from other rural schools, Dick's carved-up desk is an original from Camp Nine School.

Amy also told us that a flea market which is held regularly in the barn during the summer provides the funds to keep the Center running. Last year the market yielded about $62,000.