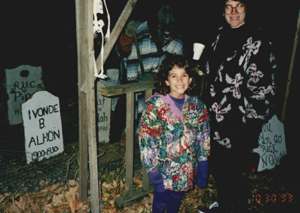 Above: A young visitior and parent walk through the a cemetery, enroute to The Hanging and the Chainsaw Maniac (real chainsaw, real noise, no chain).
Above: The Ghoul's Dinner. As visitors pass by, a lurid meal of body parts is capped by the revelation of a live head on a platter. The effect is is enhanced by using an old magician's mirror illusion to conceal the actor's body.
Above: A damsel/vampire in a realistic coffin, complete with carnations, candles, and wild-eyed vampire-killer with a stake. Role reversals are frequent with most scenes involving pairs or ensembles of actors, so everybody gets to try out lots of parts.
Right: A demon emerges from an underground cistern. A red flood light below adds hellfire and extra sizzle comes from a boombox soundtrack of tortured souls. The earth itself steams underfoot thanks to several old fashioned vaporizers buried nearby.
Right: The Aliens suck the brains out of an Earthly victim under their looming UFO.
Left: the Electric Chair and the Crazy Scientist's Laboratory. The ghoulish Scientist cavorts amidst elaborate equipment, including bubbling glassware, a real high-voltage Jabobs Ladder, glowing televisions, an 8 ft. tall transformer and a big lever. However, the Prisoner is surreptitiously in charge of the effect, accomplished with a crashing sound track, a strobe light and lots of physical acting.