The germ of an idea for a 'tompte house" started years ago. Jude has often sent Lou/Bill photos of tiny building dioramas that people all over the world have created, for artistic fun.
Then in 2012 Day traveled through Scandinavia and came home with a gift: one of a series of books popular with Swedish children about a farmer and his talking cat.
---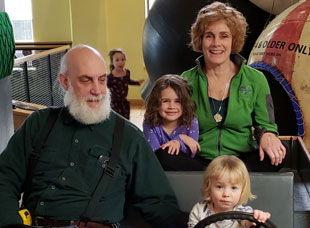 Tompte may choose to be visible to children, but not to adults. The stories caught the imagination of Juniper (5) and Romina (3), seen here with Grandma Pat (Culotti, nee Smith) at the Madison Children's Museum.
The stories includes tompte ("TOOMP-tah', both singular and plural) — small, relatively benign (if well-treated) but occasionally mischievous beings comparable to brownies or gnomes found in other cultures.