Gabe took a day of skydiving training before making that long walk to the plane. By his description, most of the training dealt with staying calm and figuring out what to do if the chute didn't open properly.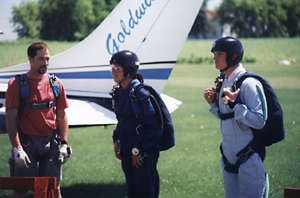 Gabe found this reassuring. Rather than being worried, he reported feeling comfortable and safe, remarking, " Hey, if the plane goes down, I'm wearing TWO parachutes!"
Three students dive per flight. When excessive windspeeds scuttled the first attempt, Gabe's group had to wait till the following day to dive.